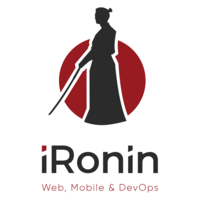 iRonin.IT
HR:

Yes

Number of employees:

40

Capital:

Polish

Remote, Rzeszów, Trójmiasto, Wrocław, Warsaw
Technical skills we value
About us
Apply and join our very experienced team and work with high coding standards! We're a Polish development agency providing high-quality IT solutions since 2011. Please submit your application to learn more about us, the way we work and our projects and how our company can help you to grow. 

We are a remote organization however working from an office is an option. We have an office in Rzeszow, where couple of our devs are located, but we're also present in other Polish cities - Sopot, Warszawa and Poznań. We are ready to open new offices in the future. We offer benefits like premium health-care, accident insurance and sport program subscription, excellent life-work balance, friendly atmosphere and no workstation screenshots 😉
What you would create with us?
We are working on complex and challenging web, mobile and devops solutions built with Ruby on Rails, for our international clients. We are experienced in remote project management and team leading. Join us and develop a complex business logic with a slick technical stack. Code for quality using modern programming standards and best practices. We value professional approach to programming and passion for software development.
Why it's worth to work with us
We keep the bar high; our development methodologies will allow you to make your programming kung-fu better!
Bonuses
Healthcare package
Healthcare package for families
Leisure package
Leisure package for families
Conferences
Trainings
Books
Shower
Chill room
Playroom for children
Integration events
We are recruiting
No offers
Job offers from other companies