Relativity with the title of Top Tech Employer 2020
Relativity, a company from the legal and compliance area, was awarded as the second company in Poland with title of Top Tech Employer, which is the result of a positive certification awarded by the editors of Bulldogjob.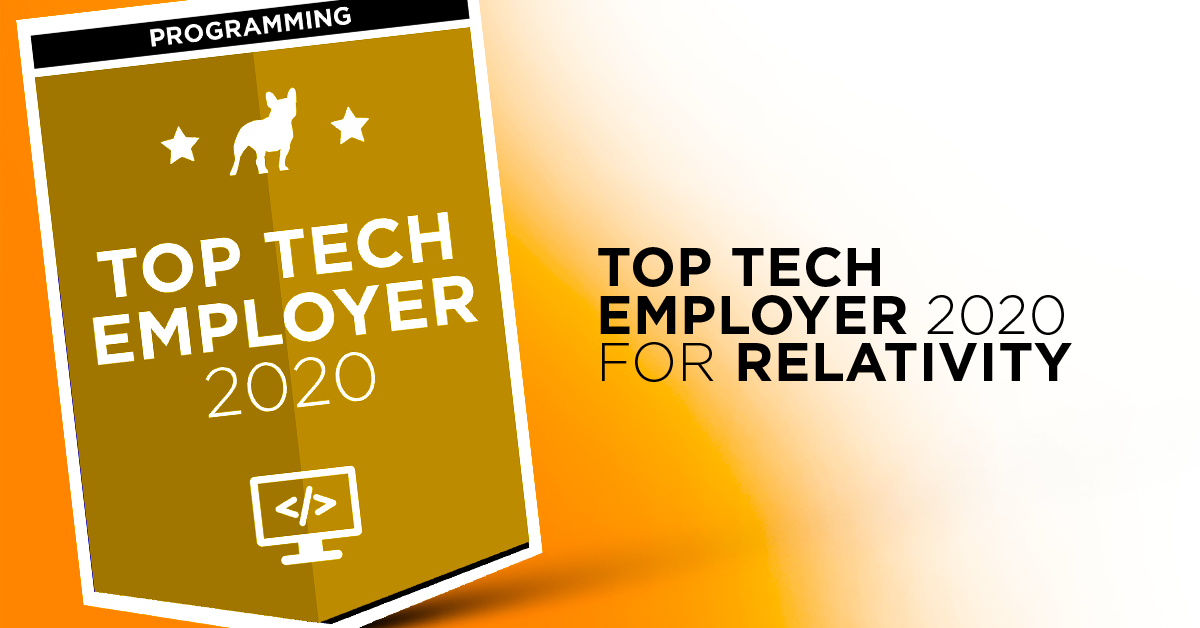 Relativity is a global legal and compliance technology company that is used by thousands of organizations around the world to manage large volumes of data and quickly identify key issues during litigation, internal investigations, and compliance operations. Relativity is the market leader in eDiscovery, which is the collection and processing of electronic data that is often used as evidence in court cases. Relativity received the title of Top Tech Employer, which is a result of positive certification granted by Bulldogjob.pl.

What influenced the assessment and why did Relativity receive the Top Tech Employer 2020 certificate? 
Relativity, which is headquartered in Chicago, also has a Polish branch in Krakow, where several sub-projects of the main product are being developed, mainly in C# and .NET.  Relativity is a company whose employees are highly motivated. 95% of the surveyed employees feel that their work matters and are satisfied with their roles on their teams.
Another strength of Relativity is a strong team spirit within their teams. The teams in the company have a mix of people with varying degrees of experience, but even the most seasoned employees with many years of experience still feel they have challenging work.
Relativity has also assisted its employees with their transition to remote work over the last few months by sending employees desks, armchairs and monitors if needed to make remote work better.

What is Top Tech Employer and what is its purpose?
The aim of the study is to analyze the company's activities in the IT area. The certification is created by IT experts for IT experts. We meet, research and promote the best IT employers in Poland. On the basis of our IT community survey and scientific articles on IT employees' satisfaction, we have created a Top Tech employer assessment system.

Top Tech Employer is a detailed analysis of 6 areas:
Work environment,
Software development processes, 
Architecture and code, 
Job satisfaction, 
Growth
Teamwork 

The study takes several weeks and consists of 5 stages:
1st stage - an online survey filled in by IT staff 
2nd stage - analysis of the results 
3rd stage - making hypotheses based on the results from the online survey
4th stage - in-depth interviews, conducted personally with representatives of IT teams, honest talks on how the things are
5th stage - summarising, collecting the results and giving an assessment 

As a result of such a survey, we saw a company with motivated specialists who are not afraid of challenges. Many of these challenges concern efficient processing of huge amounts of data. It is also worth mentioning that many systems in the company are currently in the process of refactorization, so that they can be more easily developed by numerous development teams. 

If you are looking for such challenges, have a look at Relativity's profile.