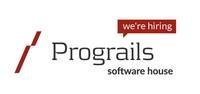 Prograils
HR:

No

Number of employees:

25

Capital:

Polish

Sczanieckiej 9a/10, Poznań
Technical skills we value
About us
At Prograils, we build web and mobile apps for businesses that move forward.

We are an ISO 27001 Certified Software House for information security management in our services and products.

Our software has fueled e-commerce, healthcare, recruitment and real estate among others. We have nearly a decade of experience doing business with partners from the United Kingdom, Scandinavia and the USA to name but a few.
Join us if you want to test your skills in a friendly, creative and international environment. We use Ruby on Rails, Elixir/Phoenix, React and HTML5 for web and Swift, Kotlin, and React Native for mobile (iOS and Android).
If you want to grow your development talents in a company that values transparency, but wants to be as far from corporate structures as possible, then Prograils is a place for you. 
We keep our office free from distractions, but offer opportunities to relax whenever you need them. No open spaces, just open minds.
We don't plan to grow our team over 30 people as we value team spirit alive.
Sounds attractive? You better hurry up!
What you would create with us?
Challenging and interesting projects such as online healthcare platform and a mobile exercise booking system among others.
Why it's worth to work with us
At Prograils, you will have an opportunity to build new systems and their functionalities, as well as play a vital role in the maintenance of the already existing applications. We offer you work in a well-equipped yet calm office and an informal, small and fully supportive community of developers, designers, projects managers and testers that are always up for new challenges and like to share knowledge. Besides competitive salaries, we offer elastic working hours and remote work. We foster the self-development and wellbeing of our workers. We like to spend time together after hours and during our retreats. Fresh fruits, free sandwiches, mate drinks, PlayStation, table football and probably the best coffee in the area - you've got them all. Dynamic, yet stable and fully transparent. This is what we want working at Prograils to feel like.
Bonuses
Healthcare package
Healthcare package for families
Leisure package
Leisure package for families
Cold beverages
Hot beverages
Fruits
Snacks
Lunches
Conferences
Trainings
Books
Car parking
Bicycle parking
Shower
Chill room
Playroom for children
Integration events
We are recruiting
No offers
Job offers from other companies