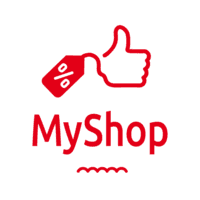 MyMLS.com Sp. z o.o.
HR:

No

Number of employees:

7

Capital:

Polish

Al. Jana Pawła II 61/222, Warsaw
Technical skills we value
About us
MyShop is a company with few successes on our account thanks to our mobile appilcation and SaaS platform allowing companies to manage coupons, loyalty cards and direct, omni-channel communication to their customers. Now, we're changing direction and started rebuilding our solutions, implementing new functionalities and possibilities.  We're ready to test our ideas in Poland and expand business to other countries in Europe & US. We're very open-minded for fresh ideas on the market related to Big Data, IoT, Marketing Automation and solutions allowing to simplify connections between retail and ecommerce reality! That's why our team is waiting for you and your ideas as well. Do not hesitate to suggest what we should do as a company, because every team member has full rights to say what would be good for all of us and our company's future!
What you would create with us?
We're currently working on SaaS omni-channel communication platform for enterprises , but also other one for small, local business allowing them to gather local clients and apply loyalty programs in most simple and effective way for them. We're also providing mobile application for Android & iOS, which is used by end customers and that's also range of new features and development.
Why it's worth to work with us
We're young and creative team
We work in nice atmosphere
We're not afraid try new ideas and to commit mistakes!
We work in flat structure and don;t want to be corporation!
We know that work is part of our lifes and we want to make it nice and comfortable :]
Bonuses
Healthcare package
Healthcare package for families
Cold beverages
Hot beverages
Fruits
Snacks
Lunches
Conferences
Trainings
Books
Car parking
Bicycle parking
Shower
Chill room
Playroom for children
Integration events
We are recruiting
No offers
Job offers from other companies