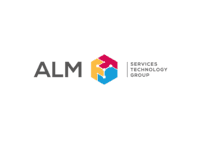 ALM Services Technology Group
HR:

Tak

Liczba pracowników:

70-100

Kapitał:

polski

Św. Mikołaja 7, Wrocław

Szafranka 2-4/1, Katowice

Puławska 145, Warszawa
Umiejętności techniczne cenione u nas
O nas
Next generation of software house to hire!

ALM Services Technology Group is a software house company and a team of over 100 experts who help clients turn great ideas into software-based solutions that positively impact everyday life. Technology is our tool. We bring tailor-made solutions to empower your business. We chose Application Lifecycle Management and Agile Methodology to carry out work because we know this way projects are delivered faster, at predicted cost, and with higher quality and customer value. 
Our goal is to bring business needs and software development together while maintaining quality and continuously adjusting business objectives. As part of ALM, we have separated five units, each specializing in a different field to meet all customer needs.
ALM in numbers:
+6 years on the market  
+100 experts on board 
+35 happy Clients
5 separated units: ALM Innovations, ALM Factory, ALM Dynamics, GeoSolution, ProCogitia
3 locations in Poland: Wroclaw, Warsaw, Katowice
SCRUM We are an agile software house
You can follow us on social media:
Facebook: https://www.facebook.com/almservicesgroup 
LinkedIN: https://www.linkedin.com/company/almservicestechgroup 
Instagram: https://www.instagram.com/alm_services/ 
Co możesz z nami tworzyć?
development of end-to-end web solutions

stakeholder identification, communication

idea management

business case

requirements engineering

design, architecture

code generation

quality assurance and testing

reporting

build management release management and deployment customer support including maintenance and software maintenance
ALM is five separated brands:
ALM Innovations - focuses on the overall implementation of custom software development, mainly in startups
ALM Factory

- body leasing services to support customer's development teams

ALM Dynamics

- system implementation, data migration around MS Dynamics tools

ProCogitia

- machine learning and artificial intelligence (AI) solutions

GeoSolution - brand focused on customized GIS and mapping services.
Dlaczego warto u nas pracować
Here in ALM we try to improve our working environment constantly. We spend quite some time here, so the quality of this space matters. We take care to maintain a high level of satisfaction from the workplace and a cozy atmosphere. We help to catch up with the knowledge and technology stack in projects we do. Using e-learning platforms, manuals, support of experienced mentors - you will learn fast. ALM is a team of over 100 experts. We love to welcome new members to our ALM board. We work for international clients and have an opportunity to change lives by using technology solutions. We are proud of our team, clients, and projects.
Bonusy
Pakiet medyczny
Pakiet medyczny dla rodziny
Pakiet sportowy
Pakiet sportowy dla rodziny
Zimne napoje
Gorące napoje
Owoce
Przekąski
Lunche
Konferencje
Szkolenia
Książki
Parking dla samochodów
Parking dla rowerów
Prysznic
Pokój relaksu
Pokój zabaw dla dzieci
Imprezy integracyjne
Oferty pracy od innych pracodawców